2003 was a long time ago, and technology has come a long way since then. In just a few short months, Microsoft will be dropping support for Windows Server 2003, just like they did last year for Windows XP. Many businesses are still utilizing this server operating system, if yours is one of them, you'll want to make sure that you upgrade away from it before July 14th, 2015. Otherwise, you'll be running without security patches or updates.
It's worth mentioning that Microsoft will offer custom support for those who can't make the upgrade in time, but it will be costly - potentially running companies up to $200,000 a year, per Processor magazine estimates. This makes it an expensive alternative to simply upgrading to something more secure and reliable. The last Service Pack for Server 2003 was received several years ago, and all other support has long since ended. The right choice is upgrading now, before it's too late - it's currently on its last few months of extended support.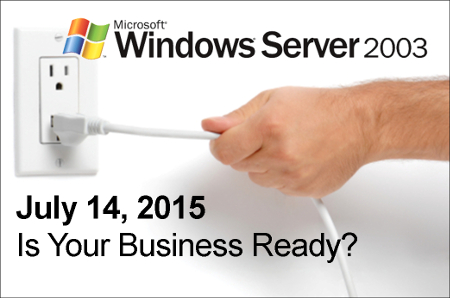 Whether or not you should upgrade isn't the only consideration. Security and compliance concerns from using outdated operating systems are a reality. Risks increase without the necessary security patches and updates. Burdening these unnecessary risks could potentially compromise your business. Keeping your infrastructure as secure as possible from outside threats is of the utmost importance. This is especially true if you deal with sensitive information, like health records or confidential files.
As a business owner, you might not have the time to dedicate toward resolving this issue. Plus, if you're like many small and medium-sized businesses, your IT budget category is probably limited. CyBerJaz understands these IT challenges and we specialize in delivering affordable solutions to those in need of experienced technology management guidance. Additionally, we believe in being proactive and using proven best practices. This eliminates common issues and prevents smaller issues from becoming bigger problems. Our top priority is ensuring that your business operates at maximum efficiency with decreased distractions and risk, allowing you to be more competitive and profitable.
CyBerJaz can help with your Windows Server 2003 migration plan and if you haven't already taken advantage of server virtualization, we can guide you along this path as well. Virtualizing servers has proven to be a valuable service, and the savings accrued by eliminating hardware and electrical costs can significantly free up your budget for more lucrative projects.
Upgrade to modern technology and adopt a more proactive style to technology management. Give CyBerJaz a call at 412.922.2000.