As Windows 10 is emerging on the scene, one would think that businesses and users would be clamoring for Microsoft's OS, Windows 8.1. This has just not been the case. Windows 7, however, has been growing more popular while Windows 8 and 8.1's sales have plateaued.
According to ComputerWorld, two-thirds of all PCs in the world ran Windows 7 at Q2 2015. They based this knowledge off of the statistics provided by Net Applications' monthly user share tracking.
Here are the operating system's statistics taken earlier this year:
64 percent of users use Windows 7.
2 percent of users use Windows Vista.
18 percent of users are still clinging to Windows XP.
15 percent of users are using Windows 8 or 8.1.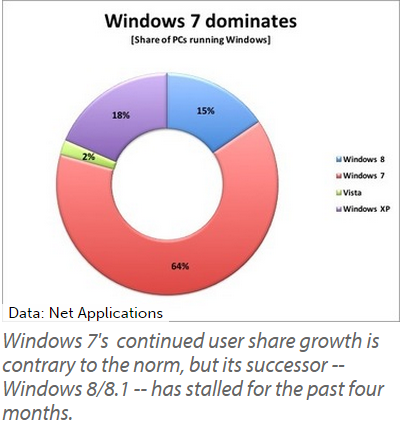 Windows 7 is an exceptional operating system well deserving merit. The fact is it was released in 2009 and the user-base is still very substantial. When it was released, it quickly began to reach into the market share of the popular operating system Windows XP. In fact, for efficiency alone, its familiar user interface made many would-be Windows 8 users forego the upgrade.
Remarkably, Windows 7's popularity is still on the rise. It has grown widely more popular since the Windows 8 launch of October 2012, and since this February, it's seen a 2.6 percent increase. Compare this to the insignificant growth of Windows 8 and 8.1.
Even though Windows 7 users have little to fear for the next few years, support for the operating system will still expire in 2020. With knowledge of the current trend, if Windows 10 fails to attract companies to upgrade, the impending Windows 7 end-of-life event could be a repeat performance of the Windows XP end-of-life experience. In the event this happens, owners of computers worldwide will be at risk without a supported platform. Vulnerabilities to various electronic attacks will be a reality. For this reason, it is always important to keep operating systems up to date and healthy with the latest patches and security updates. These patches address major vulnerabilities when uncovered by developers.
Microsoft's operating system Windows Server 2003 just hit the chopping block in July. Businesses with production Windows 2003 servers will be in a similar position, although for a different reason. For those who utilize Windows Server 2003, the idea of whether legacy hardware and software will be compatible with other, newer hardware is the primary concern.
Do you know the status of your business current operating system situation? Have you considered the financial, compliance and other impact areas if you are unable to keep up with these operating systems changes? Will you fall behind and risk running unsupported software? The answer should be clear; you can't afford to fall behind in this area nor can you let any technology management areas hold your company back. CyBerJaz offers proven technology management expertise utilizing standardized practices. Give us a call at 412.922.2000 to learn more about how we're helping our clients to be more profitable and gain a competitive edge by looking at their technology in a completely different fashion.